Bohl Striping & Painting in Lancaster, OH, offers timeless quality and superb workmanship in every project undertaking.
You shouldn't struggle to get the quality you need from a pavement striping and painting job. In fact, our dedicated lot painting team is focused on delivering quality work and stellar client service with every job undertaking.
Do you think your project is too complex? 
Do you think your parking lot line striping is too simple? 
Are you worried about official rules regarding striping, pavement markings, and commercial complex painting?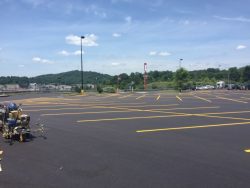 If you've been asking yourself these questions, don't worry. We have you covered with all the nitty-gritty pertaining to striping services and line work. Our team is dedicated and able to tackle any project of any size or complexity. We understand that no business or project is the same, and what you might need in your community playgrounds might not be the same as you'd need in a parking lot accommodating over 100 cars. We have the equipment, experience, protocol adherence, and market-competitive prices to make it happen.
Why Parking Lot Striping and Painting Works
The process clearly marks selected areas. For instance, disabled parking, or parent parking.
Parking lot striping makes motorists driving and navigating safer.
Parking lot lining helps motorists find their way on the road.
In sports, it helps differentiate team sides, like on a basketball court or tennis court.
Fresh painting for pavements in residential and commercial establishments assists with direction.
We Tackle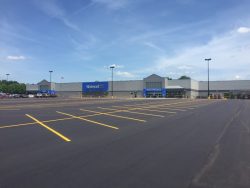 Painting of tennis courts, private and commercial
Pavement markings and line striping
Parking marking
And lots more
We also use the above markings as a primary function, and it is one of our most sought-after services for commercial and residential establishments.
Why Work With Us?
Over the past 14 years, we have been working hard to be the market leaders, which shows in our dedication and work ethic.
We are certified and compliant with OHSA (Occupation, Safety, and Health Administration) and ADA (Americans with Disabilities). We believe in transparency, fairness, and fair trade in our business. You can depend on us to get the job done safely and meet all the necessary protocols with these organizations and other safety institutions. Bohl also tackles custom or integrated layouts of grounds and is here to meet all your needs regarding these painting necessities.
Stellar Workmanship and Services Throughout Lancaster and Surrounding Areas
We cater our paint striping and painting in Lancaster, OH, Fairfield, Columbus, Fairfield County, and Central Ohio, to name just a few.
Are you looking for a reliable company to help you structure and organize your grounds with quality paving and striping? Go ahead and get in touch with Bohl Striping & Painting, LLC. Our knowledgeable, helpful team can advise you on the correct steps and processes that will accompany the project. You will always be in the loop of everything we're doing, and we guarantee our work after completion.
Contact Us
What are you waiting for? Contact us today!