Get all your playground painting in Lancaster, OH done efficiently and effectively by Bohl Striping & Painting, LLC.
Playgrounds should be colorful and expressive, just like our kids. We can help improve a plain playground and turn it into a magnificent color-appreciating zone with our playground painting techniques. Whether you're painting the swings or the monkey rails or whether you need the ground painted with default games, we can do it for you.
Our lot painting company specializes in pavement striping, parking lot striping, school mascots, and painting for sports courts.
Playground Markings Matter in Many Ways
Why is color important?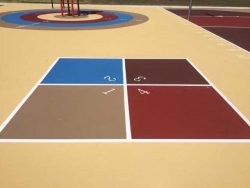 Adding color means more than simply adding some paint. It is an investment into bright, fun activities that young children will enjoy. Colors are friendly and specific colors activate different stimuli.
Color examples
Yellow – Yellow colors are energizing and improve mood and are often associated with happiness.
Blues – The color blue is often calming and may add a sense of happiness during play.
Green – Green is also considered energizing and evokes learning and creativity.
Red – Can be stimulating in a positive way as it is associated with love and creativity. Still, it's always best to keep red at a minimum, since it can also evoke negative energy.
White – White is the standard usage for the line painting.
Orange – Orange, just like yellow and green, gives rise to higher energy and a feeling of happiness. This is a good color to use on a kiddie's playground.
Our Paint May Add To Safety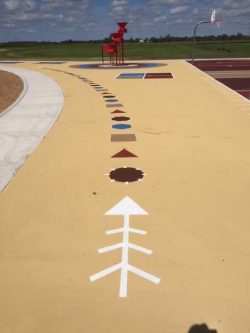 Our striping services can help reinforce safety by adding a layer of non-skid on some surfaces. Some companies may add a medium to help improve non-slip characteristics.
Weather resistant
Our range of playground paint is weather resistant withstanding rain, UV, and wind. In this way, you can be certain that it takes a very long time before any touch-ups are required.
Non-toxic
All our paints used in playgrounds are safe for children and parents and feature non-toxic ingredients.
Our Comprehensive Services
As the leading provider for playground and warehouse painting in Lancaster, HO. We also have a variety of painting services. Our services are not limited to playground painting but include basketball court painting as well as the following:
Commercial complexes – Apartment blocks, townhouses, offices
School mascots – Representing schools and teams.
Tennis courts – Painted lines of the tennis courts are accurately done
Custom lettering and logos – If you have a lettering concept in mind or a custom logo you'd like painted, we can do it for you.
Contact us if you need a hand with your playground painting, basketball court painting, and all other game line painting needs.