We know there is a lot to consider when planning a warehouse floor painting project. We offer warehouse line painting in Lancaster, OH. We've conducted warehouse floor painting jobs throughout central Ohio here at Bohl Striping & Painting, LLC. The quality of pavement striping we have completed over the past 30 years has delivered us a constant stream of referrals from repeat customers.
There is so much to consider when planning this type of project. This is not an ordinary parking lot striping project. One of the biggest concerns is how long the lines or striping should last. That would then determine the type of paint system required. Another quick fix would be recommended for a couple of different scenarios: a warehouse lease between three and five years, a long-term warehouse occupancy, or a two-year warehouse rental.
No matter your needs, you can expect our lot-painting professionals to get the job done at the right time and without any mistakes or surprises. Our approach has created many of the best companies in Ohio.
The Importance of Warehouse Floor Line Marking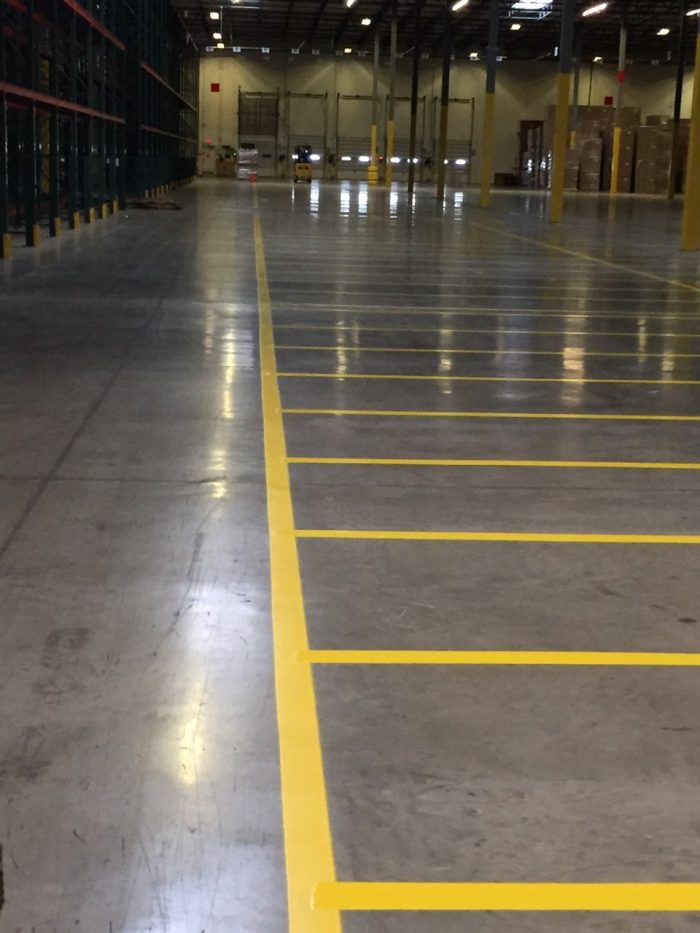 One of the biggest concerns with warehouse owners is the safety of the employees. This is the primary reason why warehouse floor line markings exist. These markings pinpoint different areas or perhaps objects that may be a potential risk.
Another reason why warehouse floor painting lines exist is to direct traffic. This helps employees navigate their surroundings. They can also be used to help recognize the location of items and boundaries.
Line markings also keep collisions with products and structures within a warehouse from occurring. As a result, this can reduce costs related to such accidents.
What Is Warehouse Floor Painting & Striping?
Warehouse floor marking or line striping is the process of marking the floor using paint. While tape is typically only a temporary fix, high-quality epoxy paint is long-lasting and more durable.
The main objective of warehouse floor marking is to generate separation in spaces. These markings help to direct the flow of traffic and separate forklift lanes from pedestrian traffic.
We take direction from OSHA regarding colors when installing floor markings. These colors indicate different meanings and hazards. For example, yellow can designate caution, while white designates areas where different types of equipment are to be kept. Contact us today to get started!