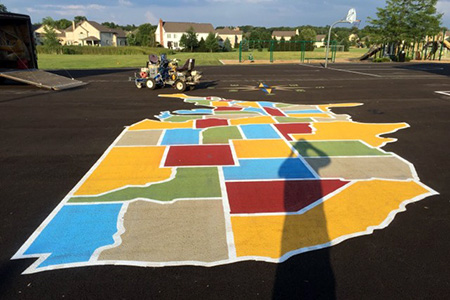 Originally founded as Tom Bohl Striping & Painting, LLC in 1989, our pavement marking company changed its name to simply Bohl Striping & Painting, LLC in 2012. That's about the only thing that's changed, though!
For more than 30 years, Tom and the team have been intent on providing the very best striping and painting in Lancaster, Sugar Grove, Amanda, Columbus, Colfax, and Fairfield County, OH, and throughout Central Ohio.
Our Philosophy
We operate on a simple philosophy: if you do a job right, treat your customers fair and finish the job on time, your customers will keep coming back. And for decades, ours have! In fact, repeat customers and referrals have been one of the biggest sources of our success and we're proud to showcase the great striping services we've offered throughout the years as proof of our dedication to excellence.
Welcoming Jobs of all Sizes

Whether it's branded logos and colors for a university basketball court, new warehouse floor markings, or ADA-compliant striping in Lancaster, OH for a huge parking garage, we're ready to tackle your job, no matter the size or scope of work involved. In fact, we've worked on some of the largest jobs in the region—everything from malls, to universities and beyond. That doesn't mean we can't handle the little jobs though, and we're glad to serve our friends and neighbors in whatever capacity they require.
Not only are we the ones to call for precision pavement striping and painting, we also love to assist with layout and design! We can help you map out your project and get a feel for the markings required for a job well done. Let us put our expertise to work for you!
Intent on Serving You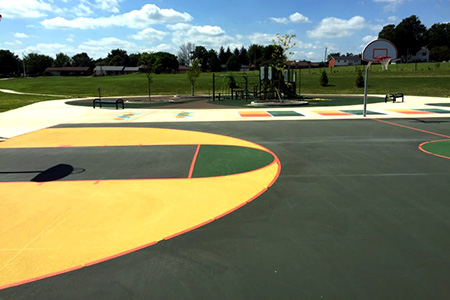 With decades of experience with lot and playground painting, vast capabilities, and perks like free estimates and layout planning, we've worked hard to set ourselves apart as the premier painter and striper in the region.
We invite you to contact us about your upcoming project and see why our business has stood the test of time!